Find Your Elected Official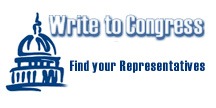 Legislative Alerts

Link to State Government Websites
Illinois

– No current alerts
Iowa 

– No current alerts
Kansas 

– No current alerts
Kentucky 

– No current alerts
Michigan 

– No current alerts
Minnesota 

– No current alerts
Nebraska 

– No current alerts
North Dakota 

– No current alerts
Ohio 

– SB 329, a bill that passed the Senate September 28, 2016, is a bill that would require the OH Department of Health to review all licensing boards under it, at regular intervals. This would allow for scrutiny of the operation of the OH Board of Dietetics. The bill passed the Senate and we are waiting for information on when it will go to the House.
Ohio Senate Bill 329 would overhaul Ohio boards and commissions to provide more oversight and transparency. In 2015, the Supreme Court of the United States (SCOTUS) heard a landmark case in occupational regulation when the Federal Trade Commission sued the North Carolina Board of Dental Examiners for violating antitrust laws in how it applied its licensing law. SCOTUS ruled against the Dental Board.
As a result, many states are re-evaluating how they handle occupational regulations to ensure they are competitive and serve the public interest rather than that of private associations. SB 329 would mandate regular reviews of boards and commissions, provide for public input and create standards of scrutiny to make sure regulations are not more restrictive than needed. If passed, SB 329 would provide a mechanism for inspection of board activity, leading the way to future reform of the current Dietetics law in Ohio that keeps hundreds of qualified providers from legally giving nutrition advice in the state.
We are waiting for information on when this will go to the House…stay tuned!
South Dakota 

– No current alerts
West Virginia 

– No current alerts
Wisconsin 

– No current alerts
Resource Links
*Resource Links are provided for your convenience. NPA Midwest/MAHO Does Not Necessarily Endorse The Content Of The Website You Are About To Visit Upon Leaving This Site.
ANH Alliance for Natural Health USA
CBNS Certification Board for Nutrition Specialists
Council For Responsible Nutrition (CRN)
Organic Trade Association (OTA)
NPA Natural Products Association